Without a solid QA review system in place, each application you release will likely distract your team from concentrating fully on the next one.

In a real factory, nobody would expect those who assembled the product to also inspect it. Nor would the customer to be happy in the role of reporting defects. Why should your application development process be any different?
Office Space, Office Time
The application displayed a floor plan of the entire work facility, overlaid with icons on each cubicle or office which represented the 'vacancy state' of the space during any time period selected by the user.
This, combined with a database knowing who's OUT OF OFFICE and when (fed by time-off requests and Outlook Exchange data), gave interested personnel insight into which workspaces were vacant and available for visiting employees, either in real time or in the future. The benefit was an extremely efficient use of office space, mitigating the need to relocate to a larger facility.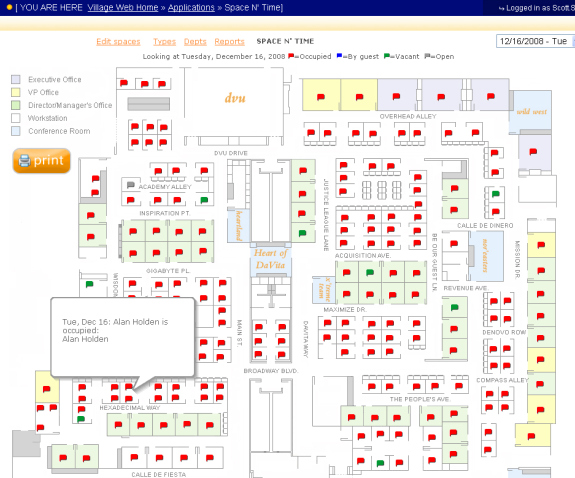 Passing the mouse over any space would reveal a graphical bubble with the details on the availability of that space during the selected time span (image above).
---
Clicking on a space icon would reveal an interface bubble, the content of which was populated by an AJAX request to a ColdFusion server (image below).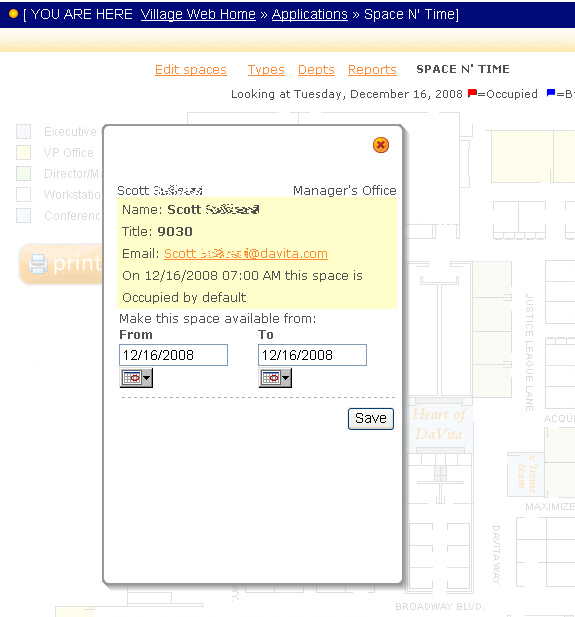 The original floor plan would remain behind the bubble, icons hidden and the page 'washed out' until the interface bubble was closed. The original page was then restored with a few style tricks, negating the need to fetch a fresh floor plan and icon set from the server.
The original application is owned by DaVita, hosted behind a firewall, and can be verified by my former supervisors.