AKH Online, Inc
Accomplished Internauts
What's the first steps in creating your Internet thing? What's the difference between a web site and a web app?

Some of the questions I answer most often...
Guide to Online Marketing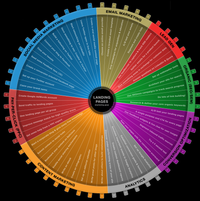 Here's an inforgraphic I found while trolling Pinterest today.
I found it very helpful, and used the embed script provided in order to share it with you here.
Click on the image in order to read the full version.

Unbounce – The DIY Landing Page Platform