AKH Online, Inc
Accomplished Internauts
The April 2012 issue of Popular Mechanics magazine calls Adobe Flash "buggy, insecure and resource-hungry", without their typical supporting evidence.
⇒

Voice
Brother's Birthday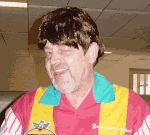 Actual voicemail message left for my brother while he was out with his wife on a nice birthday dinner.
I'll admit my inspiration was an old Saturday Night Live routine with Bill Murray.
Telephone quality
Listen to the message