AKH Online, Inc
Accomplished Internauts
Set the wayback machine to "ouch". During the dot-com revolution of the late 90's, I developed a lexicon of web dev terms for my fellow teammates.
⇒

Voice
Vocal work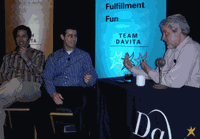 While I do a lot of programming work now, my college certificate was for Electronic Communications (broadcasting).
I took paid announcing positions at radio stations KDUO, KFXM and KNTF in Southern California. I also did some copy writing and segment production.
I still do occasional voice work - for small institutional, educational or entertainment projects. I'm also a ham.
Here are some examples: